Your neighbors recently installed a fence around their property. You'd been thinking about getting one for your own place for a while, but seeing how nicely their fence accented their house sealed the deal for you. Now you just need to figure out some good house and fence color combinations.
Fencing is common on many properties, residential or not. While the primary purpose of a fence is to keep a place safe or secure, it can also serve an aesthetic purpose. Some people may already have a very specific fence in mind, while others might want to browse their options and seek professional advice for what will look best around their property. In either situation, Northland Fence has your back. With over 15 years of experience in the fencing industry, we're well-versed in fence design and can help you find the perfect fence for your home.
Picking the Best Color Fence to Match Your Exterior

There are a couple of things to keep in mind when you're thinking about how to pair a fence with your home.  One of those things is the base color of your house, another is the accent colors, and the third is the style of your home.
A good way to look for inspiration for potential combinations can be walking or driving around your neighborhood. See what other people have done and take note of things you like and things you don't. Not everyone's taste is going to be exactly the same, regardless of current trends. 
Popular House and Fence Color Combinations

White and black still remain some of the most popular fencing color options for a good reason. They go with nearly anything, and if you decide to change your house color later, you're less likely to need to change your fence design, too.
The popularity of certain fence designs can vary depending on what kind of home you're looking at. For example, a more modern home might be more inclined to have an ornamental steel fence whereas a ranch-style home might have a more classic vinyl or picket fence.
Fencing Color That Works With Brick Houses

If you have a brick home and are looking for fencing options, it's important to keep in mind the kind of brick you have. Some bricks are more sandy in color, while others are a much richer red clay color. This could impact what color of fence you might want.
Generally speaking, white and black are always safe options for nearly any home exterior.
Contrasting Tones: Light Color House, Dark Color Fence

Do contrasting tones look okay? Does a light-colored house mesh with a dark-colored fence? 
This appearance is actually not uncommon in the world of fencing. Some people like a fence that pops because it stands out against the house, while others would rather their fence blend in more. If your fence is darker than your house, it can be less attention-grabbing, making your house more of a focus. Depending on the purpose you want your fence to serve, a contrasting fence color could work very well for you.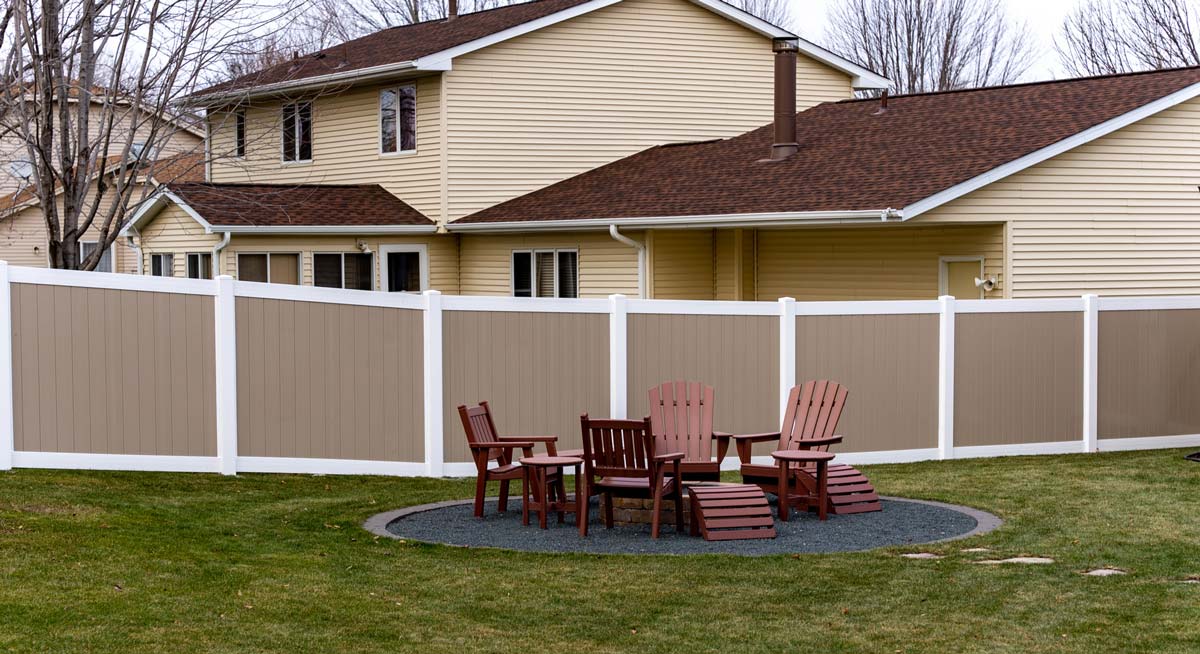 Blending Colors With Nature
Some people would prefer that their fences not be so showy. Perhaps they want it more for the security of keeping their pets and kids in than the additional visuals it can provide. Sometimes we just want a nice fence that compliments our yard or garden. 
This is always possible. You could get a vinyl fence in brown tones, or a nice black ornamental fence that blends well with nature, too. The ability to see through an ornamental steel fence combined with black blending into the surroundings well makes it mesh fairly well with any yard or foliage. 
Chainlink fencing is another solid option, especially for a garden where your goal is to keep out any critters. With our vinyl coating on our chainlink, they have a nice black finish to help better blend in with your garden or yard without taking away from it.
Exterior Color Combinations For Inviting Curb Appeal

Many people like sprucing up their home to add just a bit more appeal to it. Sometimes a new coat of paint can do wonders for the exterior of a home. People often ask us about color combinations and what works best for curb appeal.
This answer, of course, depends on the color of your home. If you have a neutral-colored home already, finding a nice blue or green can change things up a bit. Alternatively, if you have a darker neutral color, a nice pop of white can make a huge difference.
What other ways can you boost your curb appeal?
Find a bold accent color – This color could blend seamlessly into your fence or create a unique, accented look. Your fence could be a bold white or black in combination with the accent color. Many people are painting their doors or shutters with a pop of color to change the aesthetics of their exterior.
Add a sleek fence – Ornamental steel is a very popular choice for adding a nice, aesthetic touch to your home or property. The option for pointed tips gives it versatility for the exact look you want to go for. 
If you're uncertain about exactly how you want your home to look, there are many online resources like Pinterest or even Google Street View that you can use to look at other homes from around the world.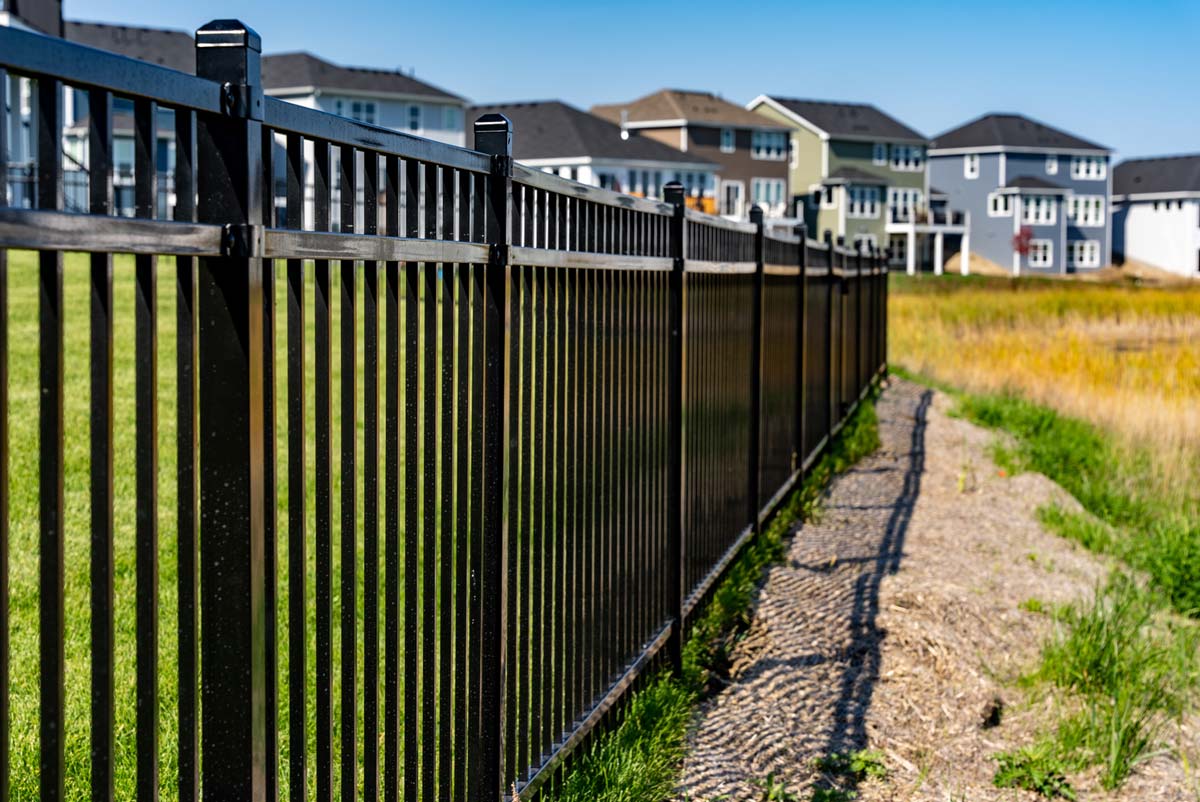 Tips for Choosing the Right Colors

At the end of the day, the most important person to ask is yourself and those who live in the home. You should be the person who is most happy with the color of your home and fence.
Sometimes, though, knowing what options you have that are readily available can help narrow down the choice for you. That's why our team at Northland Fence always has our fencing materials in stock and available for you to see at our showroom. Browsing the color selections and seeing them in person can help you figure out which one really catches your eye.
If you live in an HOA, it is important to note if there are any color restrictions before you make a decision so you don't have to worry about being potentially fined.
Get started today by utilizing our online fencing tools so you can better envision and plan out your yard. Our team is ready to help you get started year-round, even during the off-season. We also offer financing options and utilize our expertise to get you the best deal possible on the highest quality materials. We trust our installation so much that we offer both a 10-year warranty on labor and a minimum 15-year warranty on materials.
Northland Fence is ready to get you started today on installing the fence of your dreams today. Just give us a call at 763-316-4881 or check out our online estimate tool.
FAQs
Should fence color match house color?

The fence around a property doesn't have to be the same exact color as the main color of the house. White and black fences, for example, can complement nearly any house color. Some people might choose to have their fence match the accent color of their house. 
What is the best color for a fence?

If you want a color that you won't have to worry about ever clashing with your house, white or black are both very solid options.
What is the most attractive house color?

Attractiveness varies depending on your own taste, your surroundings, and even the style of your house. While neutral colors can usually be safe, that doesn't mean that other colors like yellows, greens, or blues can't also be attractive in the right scenario.