We understand that one of the major deciding factors, or even barriers, for getting the fence of your dreams is cost. Did you know that there is a fence cost calculator that can help you estimate what an installation might cost?
Here at Northland Fence, we believe in total transparency regarding fence installation costs. We don't hide fees from our customers, ever. We're entirely upfront about any potential adjustments or other factors that could impact your end cost. As a family-founded business with over 15 years of experience in the field, we have always strived to treat our customers like family. Let's talk more about the cost of fence installation.
How Do You Calculate the Cost of Installing a Fence?
There are many factors that come into play when deciding the total cost of fencing. Here are some of the major ones you will need to consider:
How big is your yard? While this might seem obvious, the total length of your fence will greatly affect your final price tag. 
Is there any major sloping in your yard? Having potentially challenging areas to fence could impact the cost at the end of it all. If you're installing it yourself, this cost could be time-related.
What fencing material do you want to use? Not all fence material was created equal. The type of material you decide to use for your yard will change the end price.
How tall do you want your fencing? Height can add additional material value to your fence.
Do you want to add any gates? Buying a specialty piece like a gate comes with the additional cost of more posts.
Keeping all of these in mind while trying to calculate your price point will help you get a more accurate estimate. 
What's the Cost Difference? Doing It Yourself vs. Hiring a Professional 
One of the biggest decisions when planning out your dream yard can be if you want to do the installation yourself or if you want to hire a team to do it for you. Well, what's the difference between the two? What can a company do that you can't? Let's break down some of the pros of either situation.
The Pros of Installing Your Fence Yourself
Working on a big project, like a fence installation, can be rather rewarding and we understand that – but is it your best option?
If you choose to install your fence yourself, you can space out the amount of money you're spending by slowly building the fence over time. You can also make on-the-fly decisions about the exact design of your fence and how you want it to look as you see it unfold.
The Pros of Hiring a Fencing Company
If you choose to go with a company like Northland Fence for your installation, you'll not only save yourself time, but you could save yourself money as well.
Our installation team is entirely in-house, meaning we will never outsource our installation to a contractor. This is because we treat our customers and employees like family.  Our employees work to meet our company standards when they install your project. We have the equipment and experience to finish the job right the first time, giving you a beautiful fence faster.
Because we've been in the fencing business for over 15 years, we have insider knowledge on how to get you the best bang for your buck. We get deals on fencing materials that the average consumer could not achieve on their own. These cost savings will translate directly toward your total bill.
If you're concerned about not having the money upfront, don't worry, we have you covered for that too. We have many financing options for our customers, as well as an easy online fence planner tool to give you an idea of what your payments might be. 
Additionally, both our installation and our materials are backed by a warranty. We're so convinced of our quality that we will pay for the labor and materials if something goes wrong.
How Much Price Difference is There Between Fencing Types?
Designing your dream yard includes picking a fencing type that you think will best suit your needs. Are these needs safety based? Maybe they're purely aesthetic? Either way, the type of fence material that you chose will impact the price point of your installation.
The fencing material is generally measured in what is known as a "linear foot." Don't let this term scare you, though, it just means a foot that is measured in a straight line. The pricing options we discuss below will be per 100 linear feet of fencing.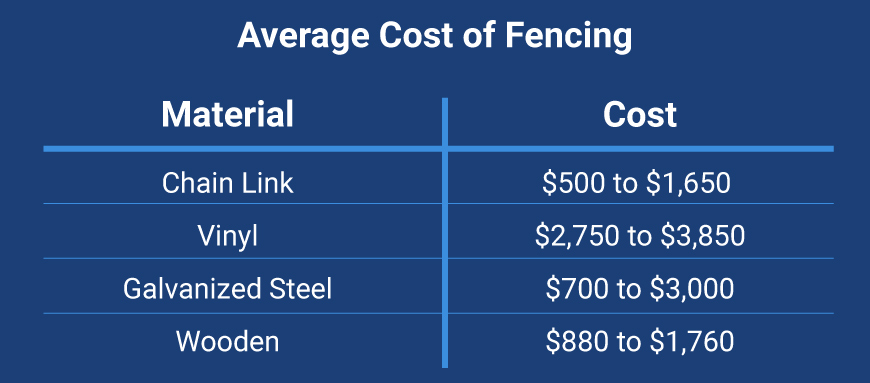 The Average Cost of Chain Link 
Chain link is a classic option that still provides the security you're looking for while saving on the overall cost. On average, on the market, chain link will run you anywhere from $500 to $1,650 for 100 feet of material. 
The Average Cost of Vinyl 
Vinyl fencing is a very popular material choice as not only can it provide ample security, but it also can give you privacy as well. This will run you $2,750 to $3,850 in materials.
The Average Cost of Galvanized Steel 
Galvanized steel is a very reliable material, whether in chain link or ornamental steel form. On average, this can run you $700 to $3,000.  
The Average Cost of a Wooden Fence
Wooden fences are a very common option for yards everywhere. They usually cost $880 to $1,760.
What Did I Forget? How to Make an Accurate Fence Installation Estimate 
If you're looking to install your fencing yourself, there are a few additional price points you'll need to keep in mind. One of the primary ones is that you might not have all of the proper equipment on hand to best install your fence. Getting this additional equipment, whether rented or purchased, will add to your total bill both in time and money. 
Another point to consider is any mistakes you might make when installing the fence. We recommend that you don't just buy exactly what you need when it comes to materials so that you have spares in case of an emergency or accident. Accounting for these additional materials in your budget will help spare you the price shock if they're needed.
Something else to keep in mind if you install a fence yourself is the cost of potential upkeep. While many of the materials we offer here at Northland Fence require minimal work to maintain, we can't guarantee this if you install them yourself. Additionally, if you choose a fencing material like wood, you'll have to worry about rot and other forms of damage in the long run. 
What Factors Might Increase the Cost of Installing a Fence?
There are some final things to keep in mind when it comes to budgeting for your fence. When buying materials as an individual, you will be at the mercy of the market when you're buying all of your supplies. This can greatly increase your cost if you happen to be buying during a price increase, or if you can't find the right deals because you don't know where to look. 
One of the other big cost factors we urge people to keep in mind is their time. Your time is valuable, and installing a fence on your own can take up a lot of your time. Not only in running around trying to find the right materials and equipment to buy, but the process of planning and installing is time-consuming as well. Everything from how you chose to install your fence posts, to having to clear debris or level ground in order for your fence to fit best adds to that total time. 
The Benefits of Having Northland Fence Install Your Dream Fence
If you want to have your dream fence installed quickly and efficiently, while also knowing that it will stand the test of time – look no further than Northland Fence. Our business was founded right here in Minnesota, and our 15+ years of experience translate directly into quality for your installation. 
We're happy to come and help build the fence of your dreams any time of year, even during winter. After you check out our online fence planning tool and get yourself an estimate, we'll come out and assess your property and help talk you through any questions you may have. We won't hide any fees from you, never tack on additional costs at the last minute, and we'll even help you with financing if you're looking for it. 
All of our materials are backed by a warranty – we trust them that much! Our chain link and ornamental steel fences both boast a 15-year warranty and our vinyl fencing has a lifetime warranty. In addition, all fencing installations come with a 10-year labor warranty too! We know we do a good job and we're willing to back that. 
If you have any questions, or you would like to get started today, don't hesitate to give us a call at 763-316-4881. We look forward to making your dream yard a reality.
763-325-8211
Installing a fence can not only help better mark property divisions but provide safety and security for you and your family.
Which is the cheapest fence to install?

On average, chain link fences are the cheapest to install at an average cost of $5 - $16.50 per foot of material.
Does weather play an important role in the cost estimate of a fence installation?

The time of year could impact the cost of installing a fence yourself due to how hard or soft the ground may be because of the temperature.