Have you recently acquired a new property and are looking to get a fence around it? Maybe some new neighbors have moved in and you've realized you've wanted some more privacy for your backyard. Perhaps you've always had plans of installing fencing but hadn't found the motivation until some rabbits started getting into your garden and eating your flowers. Whatever your reason is, Northland Fence is here to help.
With our 15+ years of experience in the fencing industry right here in Minnesota, we like to answer some of the community's most common questions about fencing. Many people want fencing for a variety of reasons, from looks to privacy and security. We totally understand and we want to help you get the fencing of your dreams.
Today we're going to talk about the best fencing for privacy. What are your options? What materials should you use? Is there something that will last a long time without requiring much upkeep on your part? Let's find out.
What Are the Most Popular Options for Privacy Fencing?
When it comes to privacy fencing, the primary objective is to be mostly unseen in your own yard. Besides that, though, there are some other factors that most fence owners should keep in mind when deciding what kind of fencing they want in their backyard.
Longevity - How long will the material last with or without upkeep? You could also consider if the style is recent and might become unpopular in the future, or if it is a style that has been around for a long time. 
Cost - When talking about cost, it's important to consider beyond just the installation cost. If one style might cost more to install but lasts longer than another type, then it might be cheaper in the long run.
Durability - This can go hand in hand with longevity, but the durability of a fence should be kept in mind, especially regarding the regular weather and climate that occurs where you live. Does one fencing type hold up better to consist of rainy seasons than another? Is this fence type able to withstand snow plows potentially battering it or high winds?
With all of these on the table, let's talk about some of the most popular options: wood, vinyl, and metal fencing with privacy panels.
The Pros and Cons of Installing a Wooden Fence

Wooden fencing is a very common choice amongst property owners. Some people like the look, others like the privacy, and some like both. While wooden fencing can be cost-effective and the right style for some, are there any downsides to wooden fencing?
Here in Minnesota, we have lots of precipitation. From rainy seasons to long and snowy winters, this can slowly take a toll on wooden fencing. The longevity and durability of wooden fencing do not match the cost. In fact, in the long run, the repairs and upkeep can make the initial cost not worth it.
The Advantages of Vinyl Fencing
Another popular choice of privacy fencing is vinyl fencing. These fences are durable and also come with style options so you can find a color that matches your home's aesthetic. 
Is vinyl fencing good overall?
In our professional opinion, yes it is. Not only is vinyl fencing very low maintenance, but it also is the only material we offer a lifetime warranty on. This material is built to last, even through Minnesota's wet and snowy seasons. It won't rot, it'll keep your home safe, and it will help you protect your privacy. While it can be a higher price point for some initially, the long-lasting nature of this fence should be a consideration when you're picking the right fence for your home.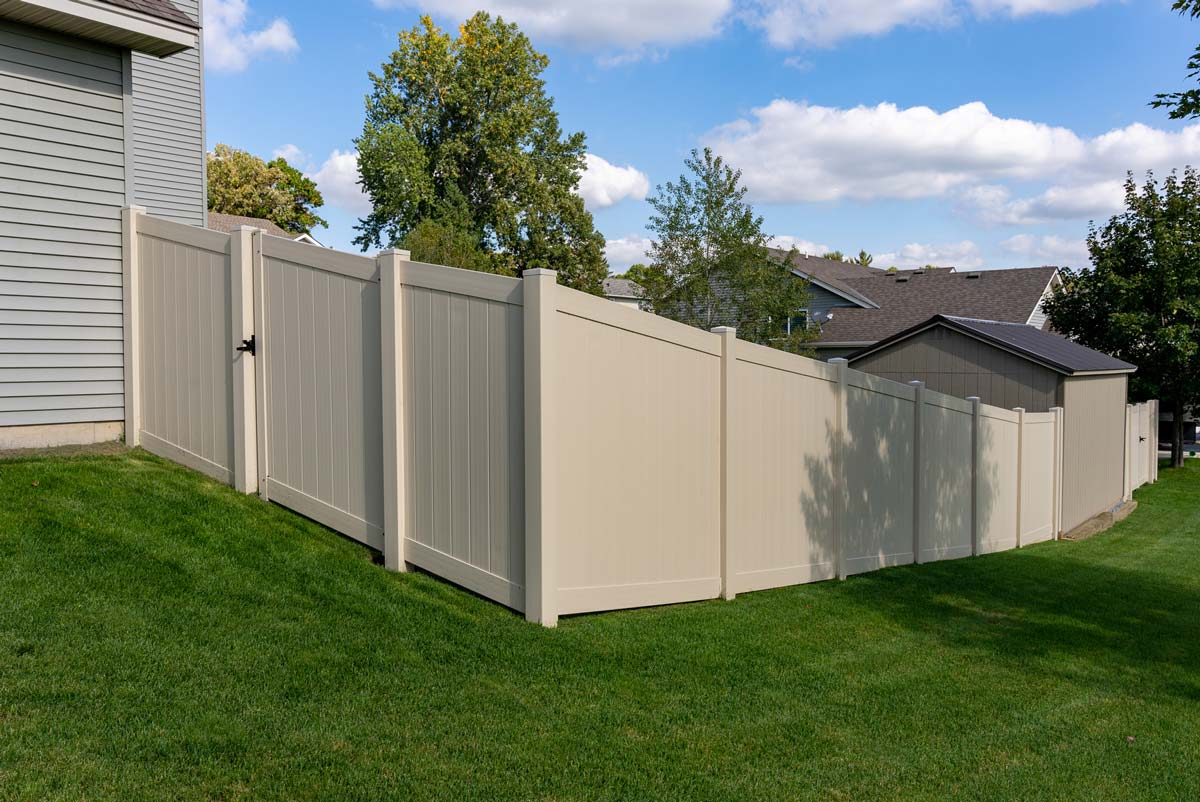 Using Metal Fences With Privacy Panels
If you already have a chain link fence around your home, or if you're looking for a different style or lower cost option, this might be the best option for you. Adding privacy panels to chain link fencing can add that extra touch of security to your property.
The one downside can be the average height of a chain link fence. Unlike vinyl or even wooden fencing, chain link doesn't always come to the height of the average adult. This can make the privacy aspects of the fence work slightly less. 
Are There Eco-Friendly Privacy Fencing Options?
For those looking for a more natural look, or for those who might have a different vision for their home, there are many ways you can use nature to help keep your property more private.
Lines of trees, as well as large bushes and shrubs, can act as a natural barrier to your property. These can help provide shade to your property, too, which is always a nice benefit. If your property does not already have some plants in place, this sort of natural barrier can take much longer to properly produce. 
Installing a Natural Privacy Fence

There are other options for natural and eco-friendly fencing. Stone walls, hedges, and fences made from recycled materials are just a few of the options you might have. If you're thinking about installing a wall, make sure you check your city's ordinances and regulations regarding fencing on the property. 
It's also important to keep upkeep in mind when looking at natural fencing. Things like hedges might take additional time or money for maintenance down the road. They also could be damaged by storms or not survive the harsh winter.
There are always natural options available to help better shelter your home. Sometimes checking with a local nursery can help you figure out what might work best for you.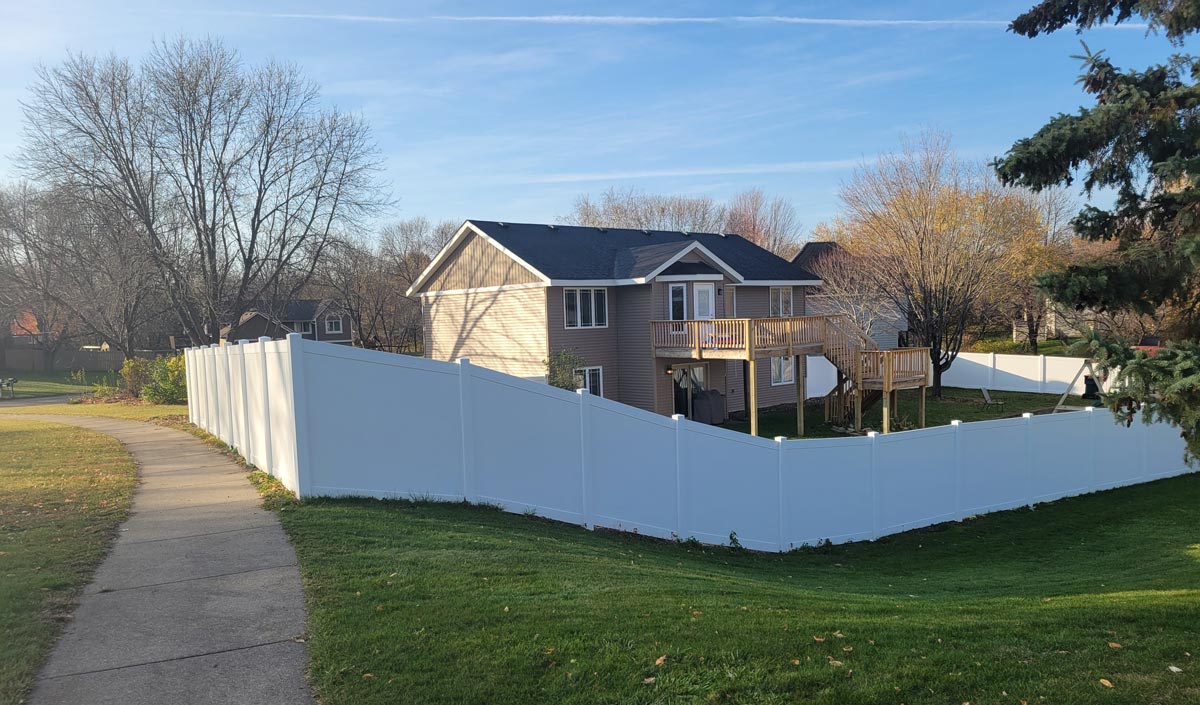 Having Northland Fence Install the Right Privacy Fence for Your Needs
If you're looking for the right privacy fence for your home but don't know where to start, Northland Fence has you covered. We always have our fencing options in stock in our showrooms, so you can swing by anytime to get an in-person idea of what might work best for you. Additionally, check out our online fence planning tool to help you visualize what your future fence might entail. 
We want to help you build the fence of your dreams. We offer financing options to help make sure you can pick the right material for your needs. With our history in the fencing industry, we know how to get high-quality materials at the best price possible. We always directly transfer those savings to our customers, so you can get the best deal possible without compromising on quality.
We're so confident in our fencing and installation process that we offer material and labor warranties on all installs. Our labor warranty lasts 10 years, and our materials last anywhere from 15 years to a lifetime guarantee.
If you have any questions about where to get started, what options we have, what might best suit your needs, or anything else – don't hesitate to give us a call today at (763) 316-4881. Our team here at Northland Fence is ready to help you build your dream fence.
763-325-8211
FAQs
What type of fence provides the most privacy?

Wooden fencing and chain link with paneling are common options for privacy fencing. The best option with no gaps and a good, long lifespan is vinyl fencing.
What is the best fence for visibility?

If you need a fence for your front yard that can be seen through by traffic due to city codes, your best options are ornamental steel fencing or chain link fencing.
What is the best fence for privacy and low maintenance?

Vinyl fencing offers privacy, security, and low upkeep all while being able to withstand nature and the test of time. Vinyl fencing can be easily maintained with some simple soap and water as needed.