You've wanted a dog for a few years, but your backyard is not fenced. You aren't even sure what the best fencing for dogs is. Do you choose something you aesthetically want in a fence, or do you have to settle for something practical for the dog? You wonder how to keep the dog safe in your backyard or if a fence would last with the dog.
At Northland Fence, we always have supplies in stock and never have hidden fees. Our employees are also in-house and paid year-round. If you are putting your fence in before you can get a dog, our stock of supplies and in-house staffing will be able to complete it without delays due to stock. But what is the best fencing for dogs? We will discuss that today.
Dog Fences: Choosing the Right One to Install
Installing a fence for your dog can provide safety inside your property. Putting your dog on a leash can keep the dog on your property, but the dog doesn't have the freedom to run and play safely. A fenced-in yard decreases the chances that your dog gets taken by someone or hit by a car. A sturdy fence can also keep others safe from your dog if an accident occurs without your knowledge, as it keeps your dog inside your property and others out. 
The best fence for your dog is a fence that provides privacy. These fences may not have any gaps, or the gaps that they do have between panels are minimal. Your dog will not be able to pass through the fence. However, dogs come in all shapes, sizes, and energy levels. A large, high-energy dog might be able to jump over a shorter fence, while a laid-back small dog might not be able to. When determining the best fence for your dog, consider the temperament and size of your dog. 
What Is a Good-Sized Fenced Area for a Dog?
A dog has several needs for a fenced area. This area is typically where a dog will run, play, and relieve themselves. The area that you fence in for your dog must be able to provide enough space that your dog will be able to do all of those things. Ultimately, all dogs are different. They come in different sizes and require different amounts of space. However, the general recommendation is a minimum of 2,500 square feet, depending on the size of your dog. The bigger the dog, the bigger the space that it will need.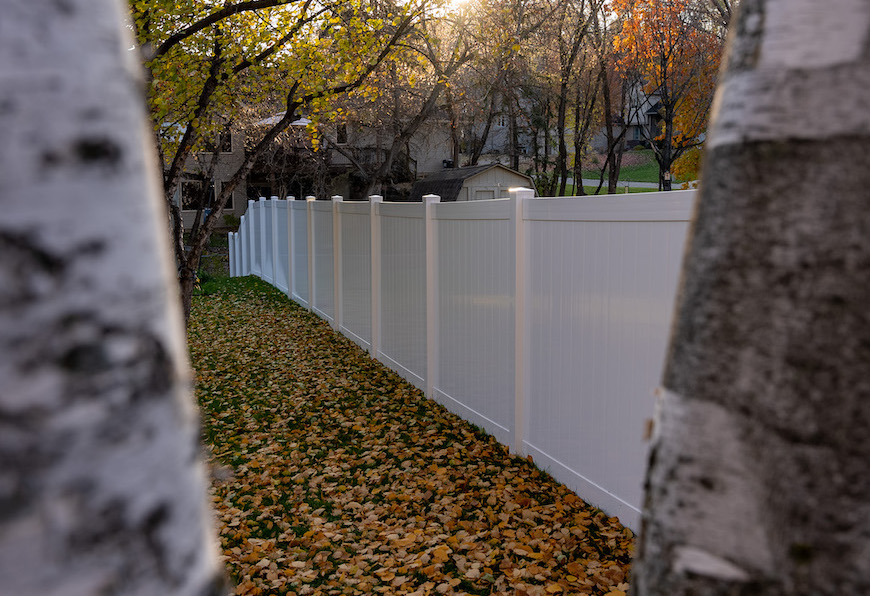 What Types of Fences Are Good for Dogs?
Choosing a good fence for your dog can depend on several factors, but some fence materials are better than others. When looking for a suitable material, you want something durable and safe for the Minnesota winters. Some materials can harm your dog if they chew, swallow, or bump against it. Privacy can also be a factor in keeping your dog and neighbors safe.
Installing A Wood Fence
Wood fences are typically a cheaper option for people. Still, they are not very durable, especially in Minnesota winters. They require a lot of maintenance that can become costly over time. Wood fences can also develop cracks and holes, allowing small dogs to squeeze through easily. Dogs also like to scratch wooden fences, eventually allowing them to slip under the fence. 
Installing A Vinyl Fence
Vinyl fence installation is the best type for dogs. Most dogs aren't interested in scratching vinyl fences because they are less appealing to scratch than wood. They also do not have any sharp parts, making them safe for an energetic dog that might bump into the fence. Plants can often damage wood fences due to the trapping of moisture that can lead to rotting. However, a vinyl fence will not do that, allowing you to plant plants along the fence to prevent a dog from digging underneath the fence. They also don't require staining or painting and come in various colors that are safe for your dog. 
Dogs might lick or chew on a wooden fence and can get sick from the chemicals involved in the product. If they chew on vinyl, it will not harm them. Vinyl fences also prevent people or your dog from seeing through. Your dog might become distracted or bothered by people who walk by when they can see through the fence. People, especially children, might also antagonize or try to pet your dog if they can see and reach through the fence, increasing the chances of being bitten. 
Installing a Metal Fence
Steel fence installation is durable and can withstand the weather in Minnesota. They are great for keeping your dog safe from intruders as well as preventing them from being able to escape the yard easily. Typically, the rods are close together, making it impossible for a dog to sneak through. The only downside would be that others and your dog can see through the fence. This visibility can lead to people antagonizing your dog and risking the chance of being bitten. 
Installing a Chain Fence
Chain link fence installation provides security, durability, and affordability. However, it might not be best for dogs who can climb. Unfortunately, like steel fences, it can lead to your neighbors and dog interacting without your observation. 
How to Choose the Best Fence for Your Dog
When choosing the appropriate fence to install for your dog, you need to consider the size and behaviors of your dog. A small, aggressive dog might need a fence with closer panels that obstruct its view and keep it from escaping. A large, energetic dog might need a more extensive, sturdier fence that deters it from trying to jump over it. A medium-sized, laid-back dog that pays no attention to the edge of the property might get away with a different style of fencing.
Best Fences for Climbing Dogs
Vinyl fences are the best fences for dogs that like to climb. This style is durable and resistant to dog paws. Your dog won't want to scratch the surface or climb the fence. Steel fences might also be a good option for dogs who like to climb. Steel fences prevent animals from being able to escape the yard.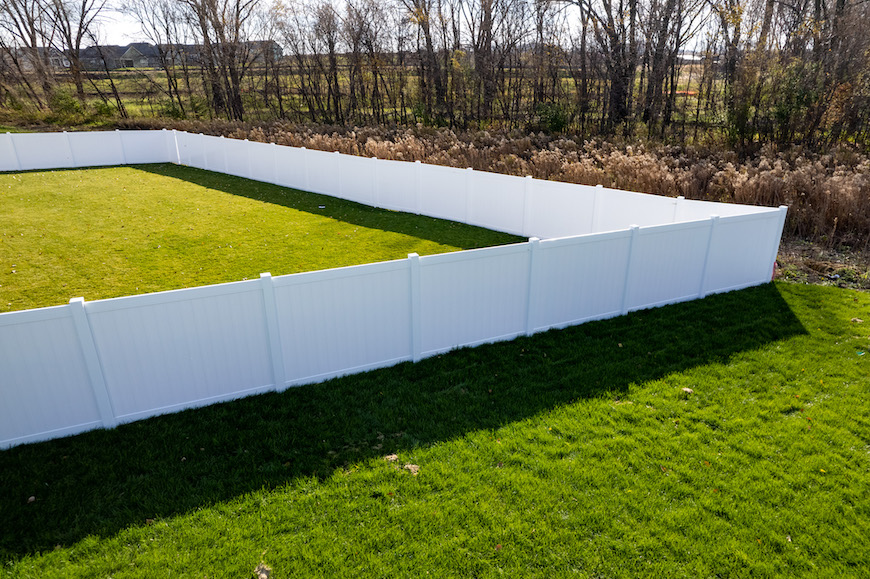 Best Fences for Digging Dogs
The best fence for dogs that enjoy digging is a chain link fence. Chain links make it near impossible for a dog to be able to break through. The downside to chain link fences is that a dog who likes to climb will be able to climb over one.
Best Fences for Large Breeds
Steel fences are the best for larger breeds because of their strength. Dogs can also not chew through or knock over a steel fence. This strength in steel fences includes aggressive chewers. Vinyl fencing can also be a good fence for large breeds as it is durable enough to handle Minnesota winters and a large, energetic dog.
Have Your Dog Fence Installed Professionally by Northland Fence in Ramsey, Minnesota
An adequately installed dog fence is typically best established with a privacy fence contractor. It also ensures no mistakes in the process, which could lead to longer installation time if you were to do it yourself. Your dog is guaranteed to be safe in your yard faster. It also ensures you have the materials you need for your complete project. 
Northland Fence provides high-quality fences with the best customer service. They believe so much in their vinyl fences that they have a lifetime warranty. All other materials have a 15-year warranty. They will even work during the off-season. For more information about their fence installations, call them at 763-316-4881.
763-325-8211
What is the best fence for aggressive dogs?

The best fence for an aggressive dog is vinyl fencing. This fence prevents the dog and any outsiders from being able to see the dog and interact with it. Thus, it will keep both your dog and the neighborhood safe.
What gauge fencing is best for dogs?

Chain link fencing is excellent for dogs who like to dig.
Is vinyl or wood fence better for dogs?

Vinyl fencing is better than wood for dogs. A dog is less likely to scratch or dig at a vinyl fence than they are with a wooden fence.